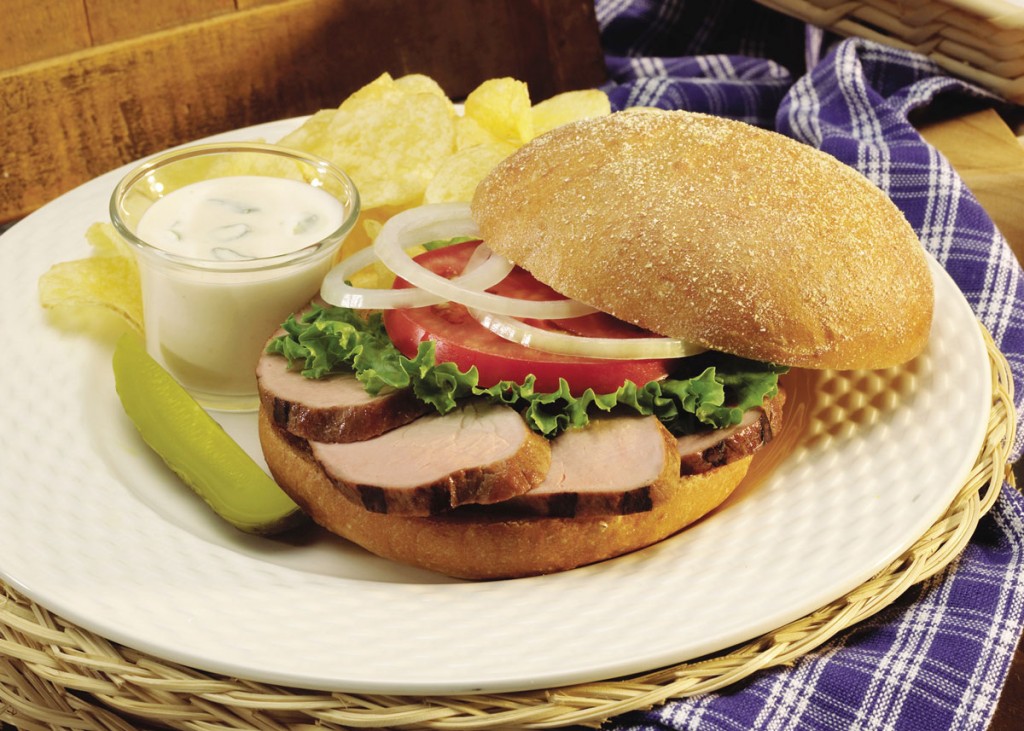 Tailgate Pork Sandwich
2014-08-12 15:15:31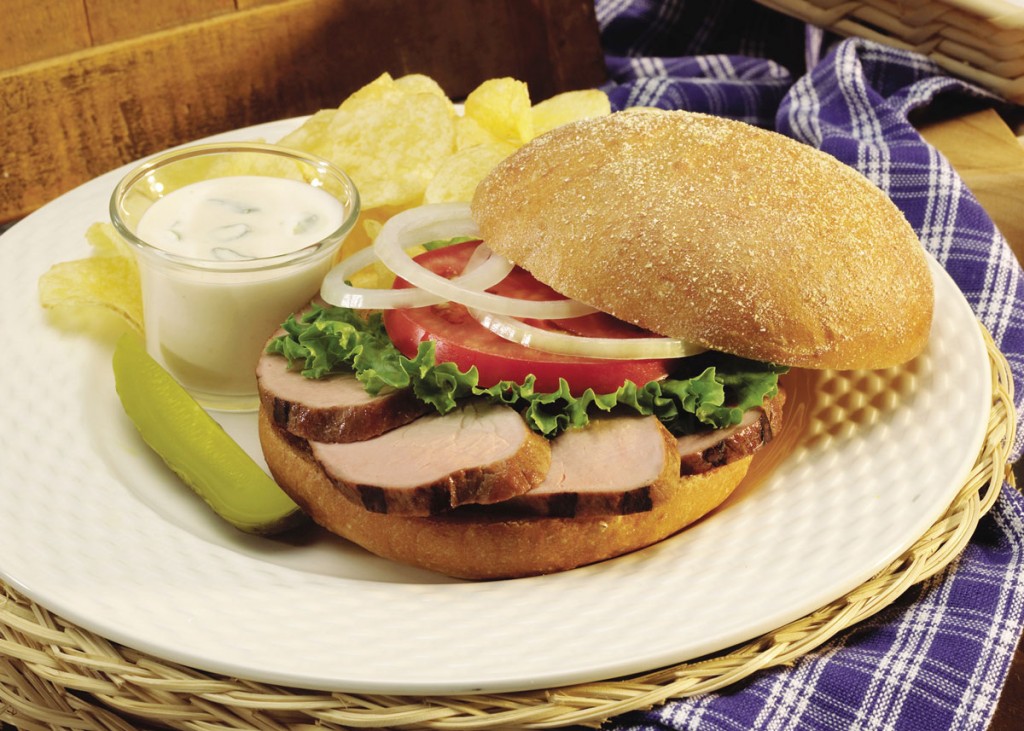 Serves 8
Ingredients
2 1 pound pork tenderloins
8 kaiser rolls, sliced in half
2 tomatoes, thinly sliced
3 cups looseleaf lettuce, chopped
1 Vidalia onion, OR any sweet onion, thinly sliced
Chef Tom's Marinade
4 cups orange juice
1 cup soy sauce
2 tablespoons garlic, chopped 1/2 cup Dijon-style mustard 1/2 cup honey
1 teaspoon cayenne pepper
Orange Aioli
1 cup mayonnaise
1/4 cup orange juice
1 tablespoon hot pepper sauce
1/2 teaspoon sugar
1/2 teaspoon garlic, chopped
1/2 teaspoon horseradish
2 tablespoons green onions, chopped
Instructions
Place pork tenderloins in two heavy-duty, resealable bags. Pour half of Chef Tom's Marinade in each bag and seal; marinade in refrigerator for 8 to 24 hours.
Prepare medium-hot grill. Remove pork from marinade; discard marinade. Grill pork for 20 minutes, or until internal temperature is 145 degrees Fahrenheit, followed by a 3-minute rest time. Toast rolls on the grill. Spread Orange Aioli on toasted side of rolls. Slice tenderloins for sandwiches. Layer pork onto bottom of rolls; add tomatoes, lettuce and onions.
Chef Tom's Marinade
Whisk all ingredients together until well blended.
Orange Aioli
Stir all ingredients together and refrigerate until ready to use.
Serving Suggestions
Liven up your next tailgate party with these marinated pork sandwiches. Be sure to have plenty of chips and your favorite side dishes. Recipe by Chef Tom Kenny of Mike Ditka's Chicago Restuarant.
Nutrition
Calories: 241 calories
Protein: 28 grams
Fat: 12 grams
Sodium: 670 milligrams
Cholesterol: 65 milligrams
Saturated Fat: 3 grams
Carbohydrates: 32 grams
Fiber: 2 grams
Taste of the Tailgate https://tasteofthetailgate.com/wordpress/