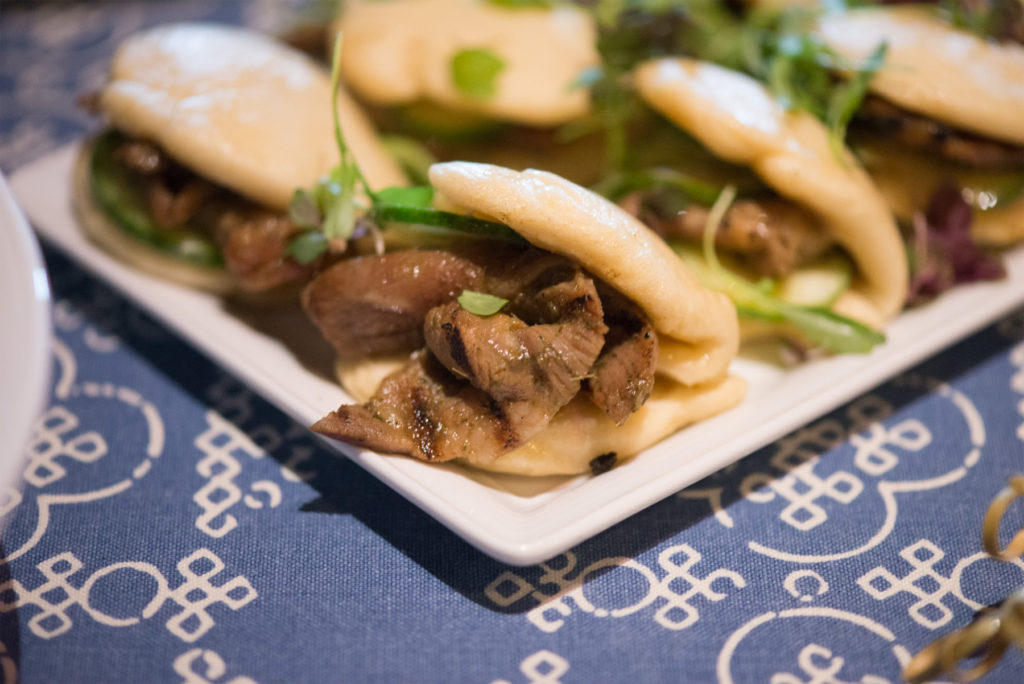 BBQ Pork Shoulder Steamed Bun
2018-09-21 14:24:30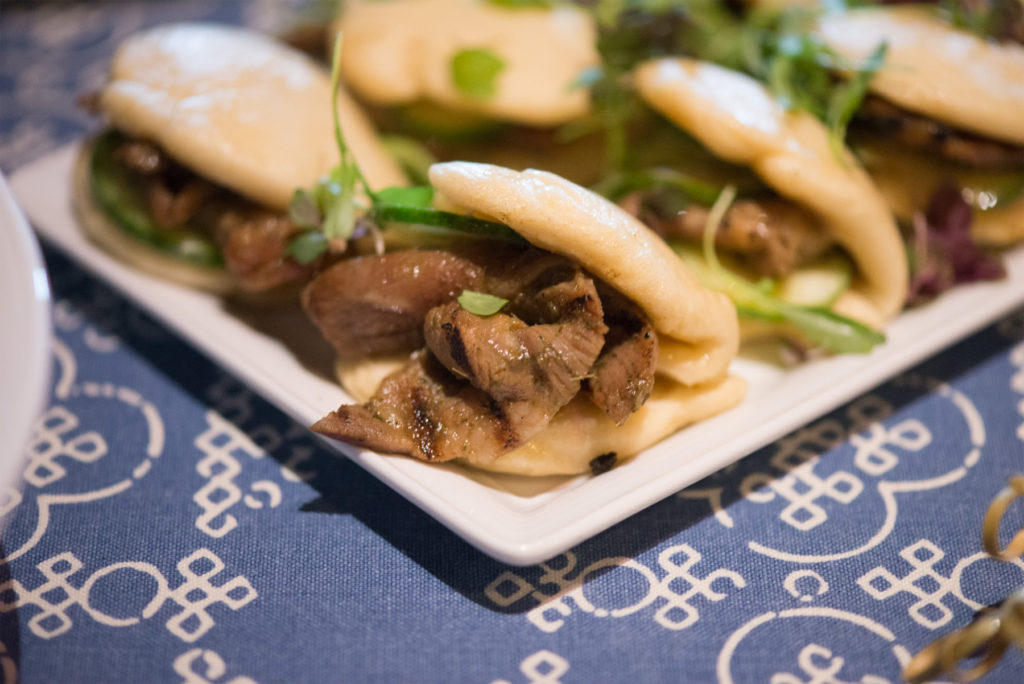 Serves 4
Ingredients
4 pounds pork shoulder (sliced thinly, and marinated overnight)
1/4 cup hoisin sauce
3/4 cup mayonnaise
1 clove garlic
2 tablespoons ginger (peeled, and chopped)
1 stalk lemon grass (chopped)
1 1/2 bunches cilantro stems (and leaves, roughly chopped)
1 1/2 cups sugar
1/4 cup sesame oil
1/2 cup mirin
1/4 cup soy sauce
1 1/2 cups fish sauce (3 Crab brand)
1/4 cup honey
1 teaspoon black pepper
8 cups white vinegar
9 cups sugar
9 cups water
1 cup salt
1 fresno chiles (smashed)
1 clove garlic (smashed)
mint (As needed micro)
thai basil (As needed micro)
cilantro (As needed micro)
16 steamed buns (warm)
16 slices cucumber
pickles (As needed)
mayonnaise (As needed Hoisin)
Instructions
For the Hoisin Mayonnaise: In a small bowl, combine the hoisin and mayonnaise; mix until well combined and set aside.
For the BBQ Pork Marinade: Place the garlic, ginger, and lemongrass in the bottom of the Vitamix container, add cilantro and sugar in alternating layers. Add the sesame oil, mirin and soy sauce to the top of the cilantro-sugar blend. Turn on the Vitamix and using the plunger, agitate the mix so that it begins to incorporate and blend well. When you have the consistency of a rough pesto, add in the fish sauce, honey, and black pepper. Buzz again to fully incorporate.
Cut the pork shoulder into 2-by 4-by 6-inch blocks. Slice the pork against the grain into 1/8" slices Alternatively, you can freeze the blocks of pork until solid and slice to 1/8" thickness on a deli slicer to achieve uniform cuts.
Marinate the sliced pork in just enough BBQ Pork Marinade to lightly and evenly coat the slices overnight.
Start a charcoal grill. As the grill is coming to temperature, remove the pork slices from any excess marinade and accumulated juices. Cook on a hot grill turning once to finish, so that both sides have a slight char and are cooked to medium or medium rare.
Remove the slices from the grill and hold warm. Just before service, julienne the pork slices, and continue to hold warm.
For Pickling Liquid: Bring all ingredients to a simmer and whisk to combine. Pour the warm pickling liquid over cut vegetables and cool fully before serving. Note: If using soft vegetables, such as thinly sliced cucumber, salt the slices and place into cooled pickling liquid for four or five minutes.
For Pickled Cucumber: Add cucumbers to a non-reactive container. Pour over enough Pickling Liquid to cover. Seal containers and reserve until needed.
Mix equal portions of the micro mint, Thai basil, and cilantro in a bowl and cover with a damp towel until ready to use.
Adapted from Pork Foodservice
Taste of the Tailgate https://tasteofthetailgate.com/wordpress/