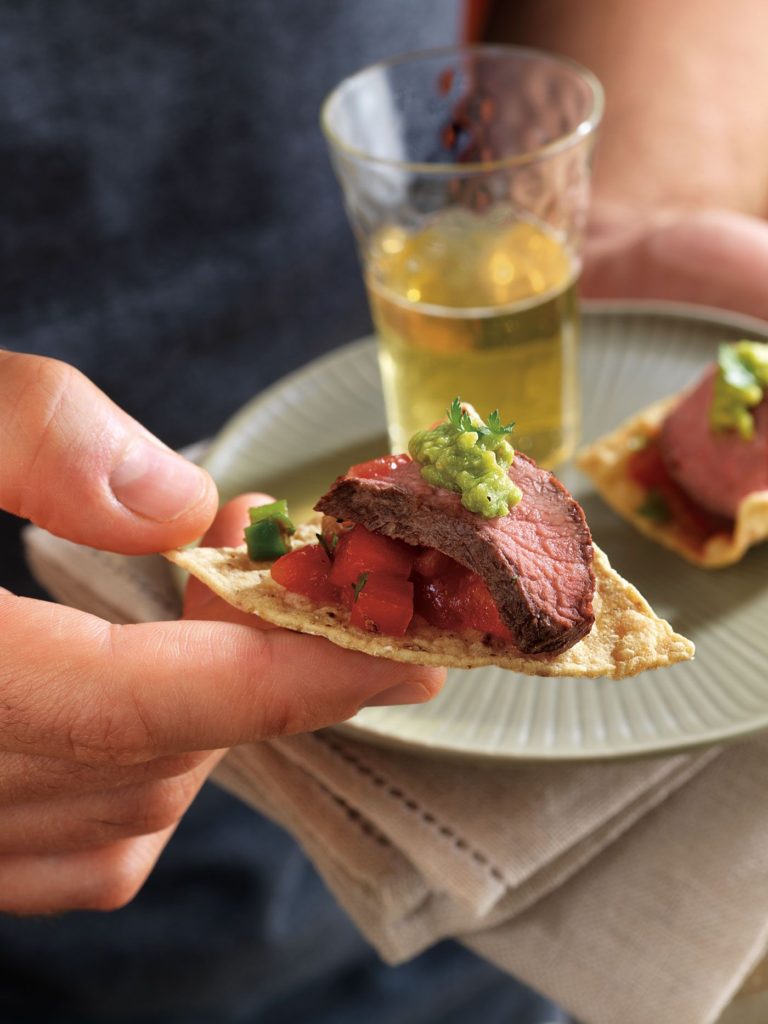 Grilled Salsa Steak Appetizer
2018-09-10 12:10:59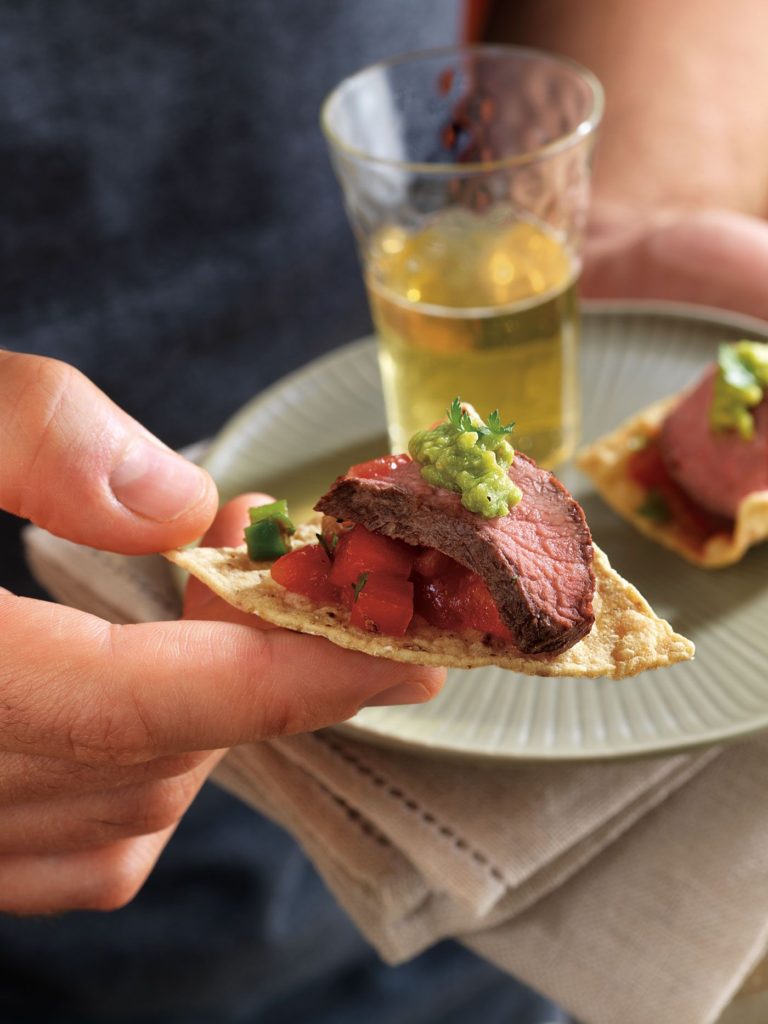 Tender Flat Iron Steak gets a flavor kick from a simple salsa marinade before being sliced and placed atop corn chips for an impressive appetizer.
Ingredients
2 beef Flat Iron Steaks (about 8 ounces each)
1 cup thick-and-chunky salsa, divided
2 tablespoons fresh cilantro leaves
24 large corn tortilla chips
1/2 cup guacamole
24 fresh cilantro leaves (optional)
Instructions
Place beef steaks and 1/2 cup salsa in food-safe plastic bag; turn steaks to coat. Close bag securely and marinate in refrigerator 15 minutes to 2 hours. Combine remaining 1/2 cup salsa and chopped cilantro, as desired; cover and refrigerate until ready to use.
Remove steaks from marinade; discard marinade. Place steaks on grid over medium, ash-covered coals. Grill, covered, 10 to 14 minutes (over medium heat on preheated gas grill, 12 to 16 minutes) for medium rare (145°F) to medium (160°F) doneness, turning occasionally.
Carve steaks into thin slices; cut slices into bite-size pieces. Arrange chips on platter. Top each chip evenly with reserved salsa mixture, beef and guacamole. Garnish with cilantro leaf, if desired. Serve immediately.
Notes
1g SAT FAT
5 % DV **
4g PROTEIN
8 % DV
0.5 mg IRON
4 % DV
1.3 mg ZINC
10 % DV
* Based on a 2,000 calorie diet 
** Percent Daily Values are based on a 2,000-calorie diet
Nutrition information per serving: 59 Calories; 3g Total Fat; 1g Saturated Fat; 1g Monounsaturated Fat; 12mg Cholesterol; 134mg Sodium; 5g Total carbohydrate; 4g Protein; 0.5mg Iron; 0.5mg Niacin; 0.1mg Vitamin B6; 0.8mcg Vitamin B12; 1.3mg Zinc; 5.4mcg Selenium; 0.6g Fiber.
Taste of the Tailgate https://tasteofthetailgate.com/wordpress/