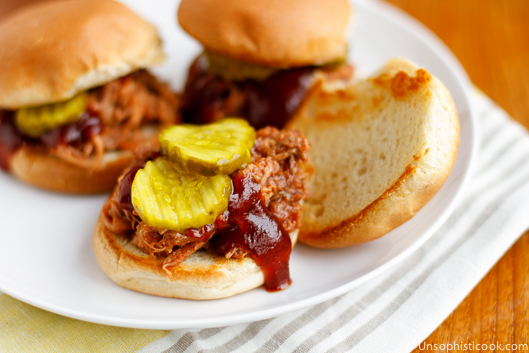 Slow Cooker Cola Pulled Pork Sliders
2014-10-20 13:59:27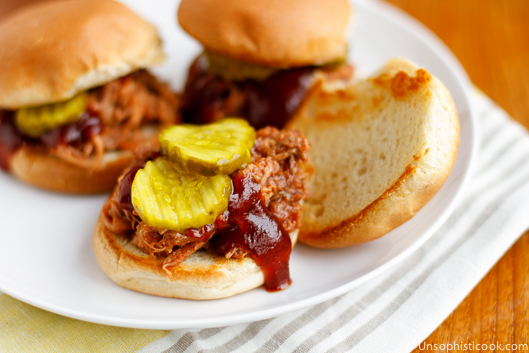 Serves 12
Ingredients
5-6 lb. pork shoulder roast
1 onion, cut into wedges
2 tablespoons brown sugar
1 tablespoon ground chipotle chile powder
2 teaspoons dry mustard
2 (8-oz.) cans cola BBQ sauce
slider sandwich buns
butter
bread & butter pickles
Instructions
Plug in your slow cooker and turn it on to low. Trim any excess fat from the pork shoulder roast. Place the onion wedges in the bottom of the crockpot, and set the pork roast on top of them, fat side down.
Sprinkle brown sugar, chipotle chile powder and dry mustard on top of the roast. Slowly pour in both cans of cola around the roast.
Cover and cook on low for 7-8 hours, until the meat is tender and easy to pull apart.
Remove the pork roast from the slow cooker to a platter and discard the onions. If you're
planning to keep the pulled pork warm for awhile, reserve some of the juice to moisten it later
on, otherwise you may discard it as well.
Use two forks to gently pull the pork apart into shreds. Add in your favorite BBQ sauce as
desired and mix well to combine.
Spread the insides of the slider buns with butter and toast them over medium-high heat until
golden brown.
Serve pulled pork on the toasted slider buns, topped with bread & butter pickles and additional
BBQ sauce as desired.
Taste of the Tailgate https://tasteofthetailgate.com/wordpress/