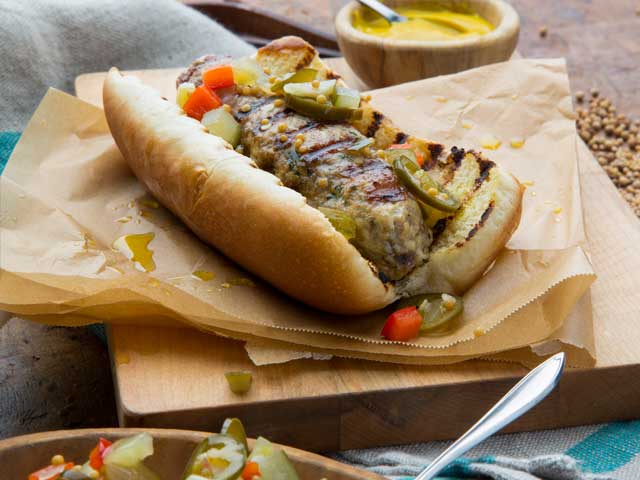 Pork Kebab Dog With Spicy Pickle Relish
2016-10-10 10:44:58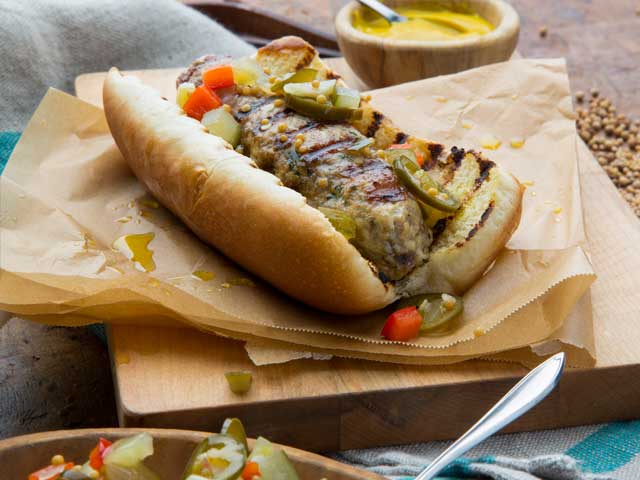 Serves 4
Ingredients
1 1/2 pounds lean ground pork
1 1/2 tablespoon mint, chopped
1 tablespoon cumin
1 1/2 teaspoons coriander
1/2 teaspoon allspice
1 1/2 teaspoons kosher salt, plus more for seasoning
1/4 teaspoon black pepper
2 tablespoons canola oil
4 hot dog buns, buttered and toasted
4 wooden skewers
For the Spicy Relish
1 cup apple cider vinegar
1 cup water
1/2 cup sugar
1 tablespoon kosher salt
2 tablespoons mustard seed
1 teaspoon coriander seed
1/2 english cucumber, diced (about 1 cup)
1/2 white onion, diced (about 1/2 cup)
2 serrano chiles, thinly sliced crosswise
1 small red bell pepper, diced (about 1/2 cup)
2 cloves garlic, thinly sliced
Instructions
Make the Spicy Relish: In a saucepot, combine the vinegar, water, sugar, salt, mustard seed and coriander. Bring to a boil over medium-high heat and cook, stirring occasionally, until it has reduced by half, about 20 minutes. Add in the remaining ingredients for the relish and continue to boil the mixture until the vegetables have softened and the liquid has reduced to a syrupy glaze, 6 to 8 minutes more. Set the relish aside to cool completely.
Next, make the Kebab Dogs: In a large mixing bowl, mix together the ground pork, mint, cumin, coriander, allspice, 1 1/2 teaspoons of salt, and ground pepper. Divide the pork mixture into 4parts and form each part into a tube about 7 inches long and 1 inch wide. Place a long wooden skewer (pre-soak skewers in water if wood or bamboo and using a grill), lengthwise, through the center of each kebab.
Heat a grill pan or grill to medium-high heat, coat each kebab with canola oil on all sides and place on the hot grill to cook, untouched, for 3 to 4 minutes. Then turn the kebabs and continue to cook, until it reaches an internal temperature of 160 degrees F. and is cooked through, about 3 to 4 minutes more.
Allow the cooked kebab dogs to rest for 5 minutes. Remove the skewers from each kebab and serve in the buns, topped with a couple tablespoons of spicy relish.
Nutritional Information
Calories: 480 calories
Protein: 41 grams
Fat: 20 grams
Sodium: 1530 milligrams
Cholesterol: 110 milligrams
Saturated Fat: 6 grams
Carbohydrates: 35 grams
Fiber: 2 grams
Taste of the Tailgate https://tasteofthetailgate.com/wordpress/