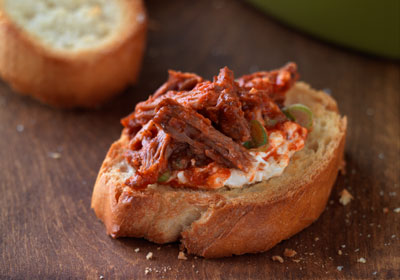 No-Noodle Lasagna Beef Dip
2014-08-28 15:40:26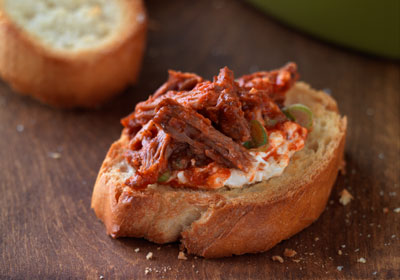 Serves 6
Ingredients
1 package (17 ounces) refrigerated fully-cooked boneless beef pot roast with gravy or au jus
1-1/2 cups pasta or marinara sauce (any variety)
1 clove garlic, minced
8 ounces reduced-fat or fat-free cream cheese, softened
1/2 cup thinly sliced green onions
2 tablespoons reduced-fat Parmesan-style grated topping
Sliced green onions (optional)
Garlic or Italian-flavored crackers, pita chips or crostini slices
Instructions
Cook beef pot roast according to package directions. Discard gravy or au jus, or reserve for another use. Cool slightly and finely shred pot roast with two forks. Combine shredded beef, pasta sauce and garlic in large bowl. Set aside.
Preheat oven to 400°F. Spread cream cheese on bottom of 9-inch pie plate or 8 X 8-inch baking dish. Top evenly with 1/2 cup green onions. Spread beef mixture evenly over onions. Sprinkle with Parmesan topping.
Bake in 400°F oven 15 to 20 minutes or until bubbly around edges. Let stand 5 minutes. Sprinkle with additional green onions, if desired. Serve with crackers, as desired.
Nutrition information per serving (1/6 of recipe)
194 calories
10 g fat (5 g saturated fat; 0 g monounsaturated fat)
50 mg cholesterol
711 mg sodium
11 g carbohydrate
1.3 g fiber
16 g protein
0 mg niacin
0 mg vitamin B6
0 mcg vitamin B12
1.7 mg iron
0.1 mcg selenium
0 mg zinc
0.1 mg choline
Taste of the Tailgate https://tasteofthetailgate.com/wordpress/