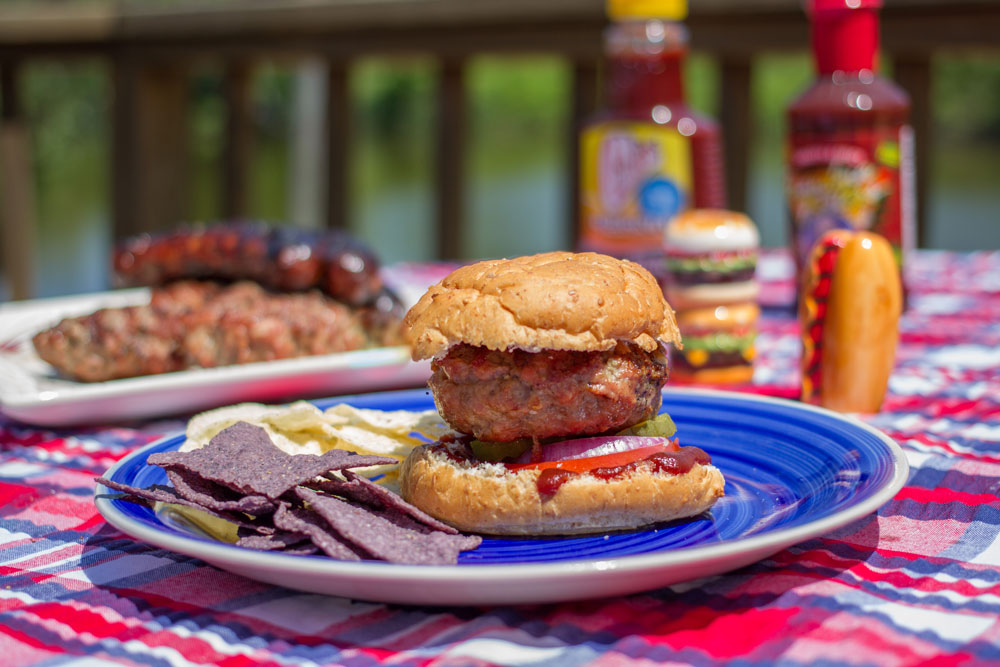 Jalapeno/Blue Cheese Stuffed Pork Burger
2016-06-10 12:29:54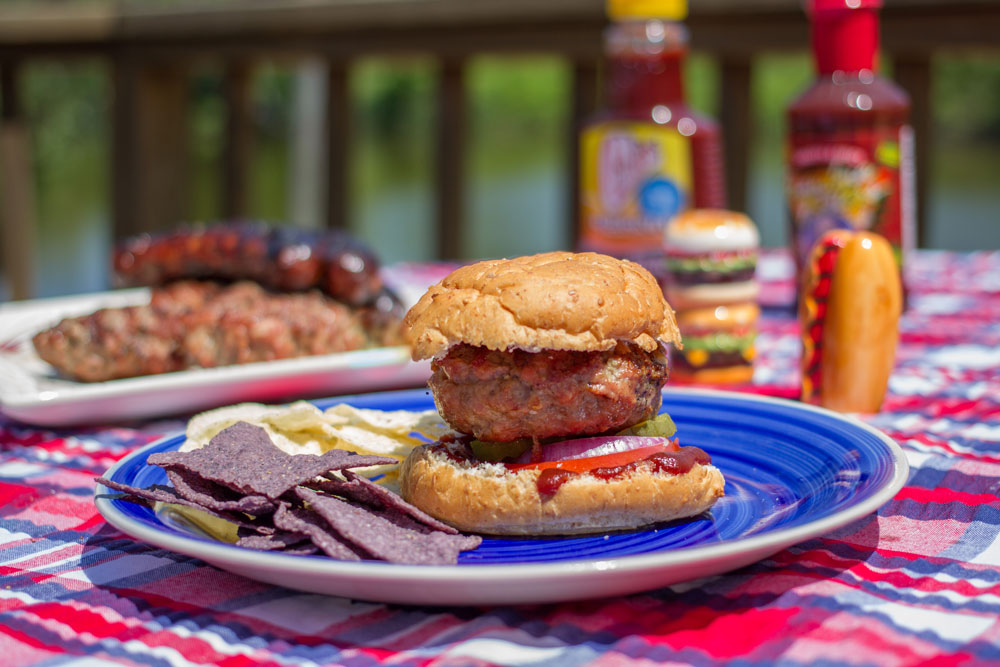 Ingredients
24 ounces ground pork
6 tablespoons chopped pickled jalapenos
6 tablespoons blue cheese crumbles
1/4 teaspoon salt
1/4 teaspoon black pepper
6 thin slices purple onion
12 dill pickle slices
6 thin tomatoes slices
6 whole wheat buns
BBQ Sauce
3/4 cup ketchup
2 cloves garlic (chopped)
1 1/2 tablespoons brown sugar
1 1/2 tablespoons pure maple syrup
1 1/2 tablespoons Worcestershire sauce
1 1/4 tablespoons cider vinegar
1 teaspoon smoked paprika
1 teaspoon black pepper
Instructions
Make 6- 4 ounce burger balls mixing in the salt and pepper and split in half, making two 2 ounce patties.
Put 1 tablespoon chopped jalapeno peppers on one of the split patties and 1 tablespoon of the blue cheese crumbles on the same patty.
Spread and gently push the two ingredients into the patty.
Place the other patty on top the patty with the blue cheese and the jalapenos and seal together. Making sure the inside ingredients are totally inside.
Place on gas grill on medium high heat for 5 minutes on each side.
Take off burgers and let them rest for 3 minutes.
Place the buns on the grill to toast them.
Place burger on bottom bun add 1 tablespoon of BBQ sauce(see recipe below), 1 tomato slice, 1 purple onion slice. and 2 pickle slices. Then top of grilled bun.
BBQ sauce
Place 3/4 ketchup, 2 chopped cloves of garlic, 1 1/2 tablespoons brown sugar, 1 1/2 tablespoons pure maple syrup, 1 1/2 tablespoons Worcestershire, 1 1/4 tablespoon cider vinegar, 1 teaspoon smoked paprika, 1 teaspoon black pepper for the sauce in a small pot and bring to a bubble on the side burner.
Reduce heat to low and let simmer for 15 minutes.
Taste of the Tailgate https://tasteofthetailgate.com/wordpress/