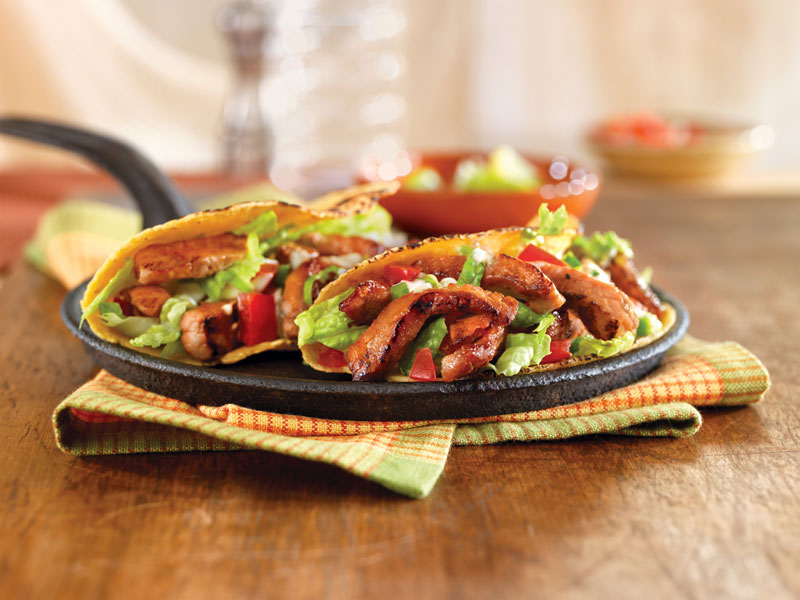 Honey & Spice Sauteed Pork Hand Tacos
2015-08-28 16:02:26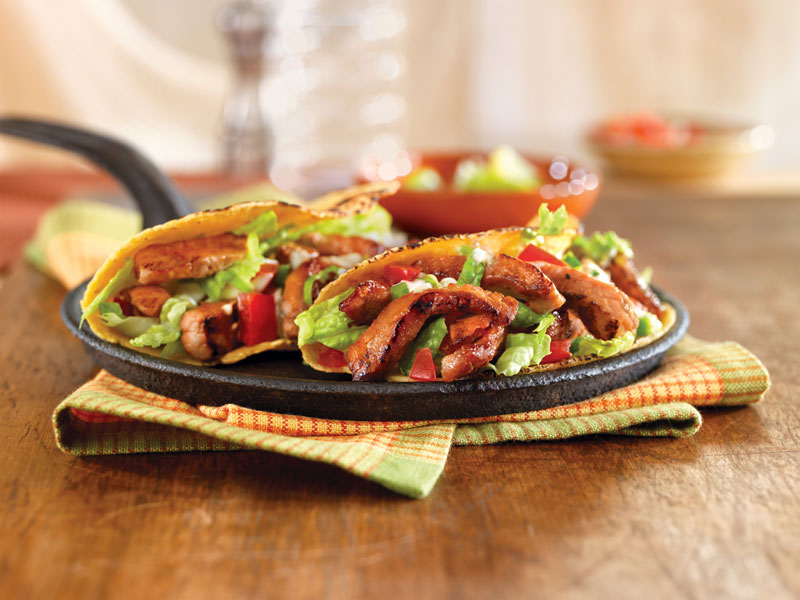 Serves 4
Ingredients
1 pound boneless pork chops, thinly-cut (1/2-inch thick), cut into strips
1 tablespoon honey
1 tablespoon olive oil
1 teaspoon lemon juice
1 teaspoon soy sauce
1/2 teaspoon ground chipotle pepper, (smoked or plain paprika can be used as an alternative)
8 small corn tortillas, warmed
1 cup romaine lettuce, shredded
1 cup pico de gallo, *
To taste light sour cream, or crema
Instructions
In a medium sized bowl combine the honey, olive oil, lemon juice, soy sauce and ground chipotle pepper and whisk to combine. Add the sliced pork to the marinade and let it sit for 15 minutes.
Heat a skillet over high heat. Add the slices of pork to the skillet and cook for 1-2 minutes on each side, flipping with tongs in the middle of the cooking process. Once cooked, remove the pork to a plate and reserve.
(http://www.porkcdn.com/recipes/HR/Honey_and_Spice_Sauteed_Pork_Hand_Tacos_HR.jpg) Arrange 8 corn tortillas on a platter. Sprinkle each with equal amounts of shredded lettuce and pico de gallo. Arrange a few pieces of pork on top of each taco, and top
with sour cream or crema if desired. 4 servings, 2 tacos each
* You can find prepared pico de gallo, typically a combination of onions, chiles, tomatoes, lime juice and cilantro, in the refrigerated section of the produce department in most major supermarkets.
Notes
These tacos would be great alongside a rice pilaf dish. Chop up some fresh cilantro and stir it into the rice for an extra kick.
Taste of the Tailgate https://tasteofthetailgate.com/wordpress/