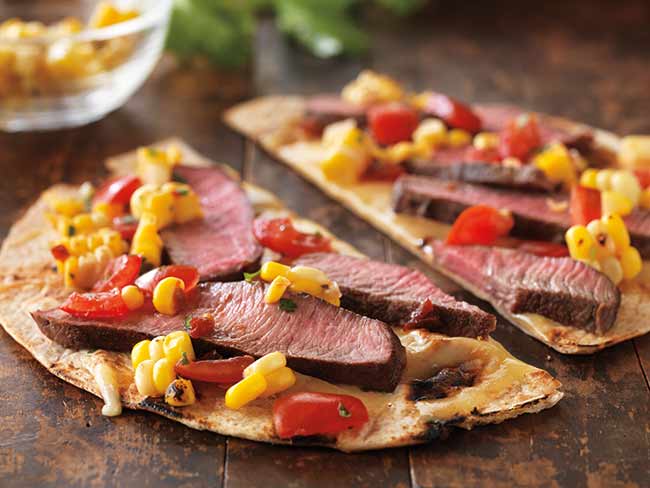 Grilled Tequila Steak Pizza
2016-10-10 10:31:03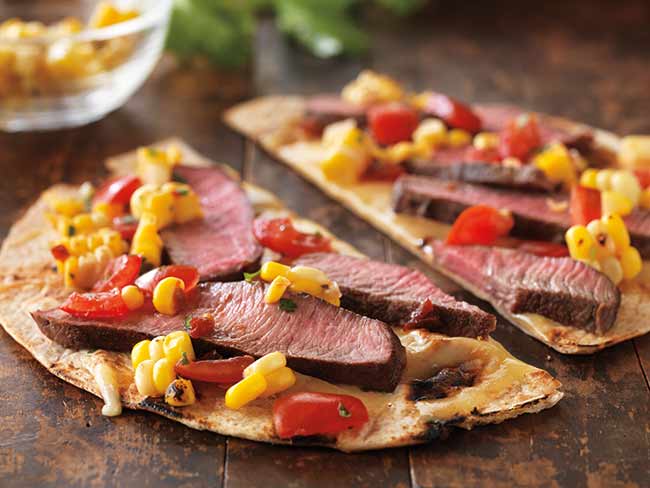 Serves 4
Ingredients
2 beef Flat Iron Steaks (about 8 ounces each)
1 cup cooked fresh or frozen corn kernels
1 cup chopped tomato
2 tablespoons chopped fresh cilantro
1/4 teaspoon salt
4 medium whole wheat or flour tortillas (about 8-inch diameter)
1 cup shredded Chihuahua cheese or Mexican cheese blend
Chopped fresh cilantro (optional)
Marinade
1/4 cup fresh lime juice
1/4 cup tequila
1 tablespoon minced chipotle pepper in adobo sauce
Instructions
Combine marinade ingredients in small bowl. Reserve 2 tablespoons for topping. Place beef steaks and remaining marinade in food-safe plastic bag; turn steaks to coat. Close bag securely and marinate in refrigerator 15 minutes or up to 2 hours, turning occasionally.
Meanwhile, combine corn, tomato, 2 tablespoons cilantro, salt and reserved 2 tablespoons marinade in medium bowl. Cover and refrigerate.
Remove steaks from marinade; discard marinade. Place steaks on grid over medium, ash-covered coals. Grill, covered, 10 to 14 minutes (over medium heat on preheated gas grill, 12 to 16 minutes) for medium rare (145°F) to medium (160°F) doneness, turning occasionally.
Remove steaks; keep warm. Place tortillas on grid. Grill, covered, 1 to 2 minutes or until toasted. Turn tortillas over; sprinkle evenly with cheese. Grill 1 to 2 minutes or until toasted and cheese starts to melt.
Carve steak into thin slices. Season with salt, as desired. Top tortillas with equal amounts of beef and corn mixture. Garnish with cilantro, if desired.
Cook's Tips
To cook fresh corn on grill, pull back husks from corn, leaving husks attached. Remove and discard corn silk. Bring husks back up around corn; tie in place with kitchen string or strips of corn husk. Soak corn in cold water 30 minutes or up to several hours. Remove corn from water. Place on grid over medium, ash-covered coals; grill, covered, 20 to 30 minutes (over medium heat on preheated gas grill, 15 to 25 minutes) or until tender, turning occasionally. To cook frozen corn on stovetop, heat nonstick skillet over medium heat. Add corn; Cook over medium heat 4 to 6 minutes or until thoroughly heated, stirring occasionally.
Nutrition information per serving
485 calories; 23 g fat (11 g saturated fat; 7 g monounsaturated fat); 100 mg cholesterol; 726 mg sodium; 33 g carbohydrate; 4.4 g fiber; 33 g protein; 7.8 mg niacin; 0.4 mg vitamin B6; 5.3 mcg vitamin B12; 2.9 mg iron; 36.5 mcg selenium; 8.9 mg zinc; 106.9 mg choline.
This recipe is an excellent source of protein, niacin, vitamin B6, vitamin B12, selenium, zinc and choline; and a good source of fiber and iron.
Taste of the Tailgate https://tasteofthetailgate.com/wordpress/