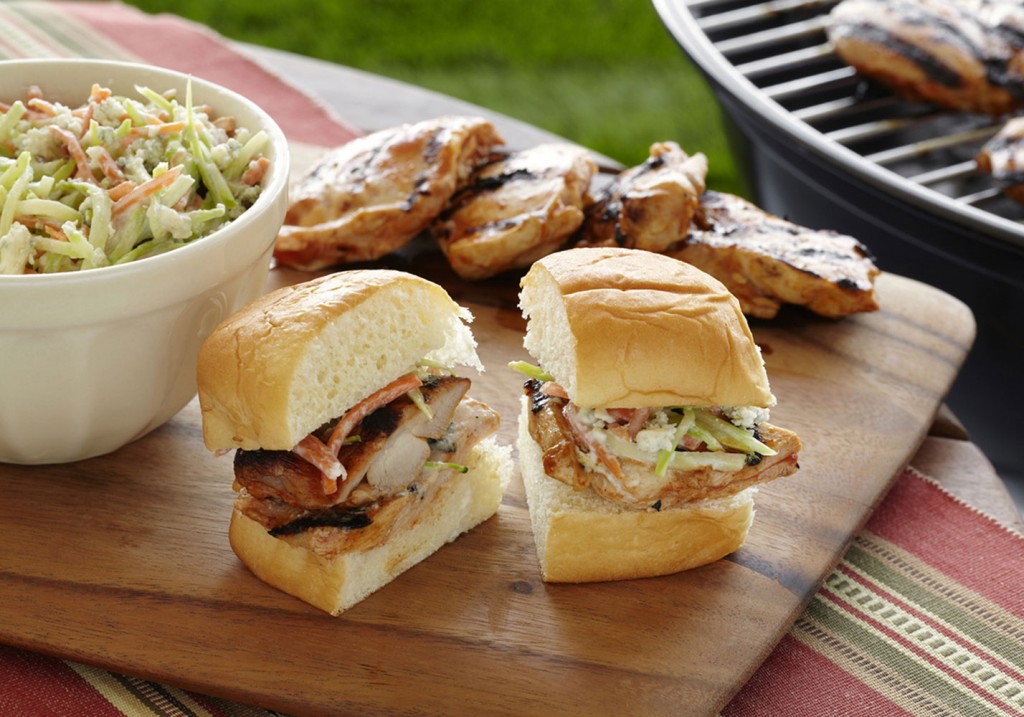 Grilled Buffalo Chicken Sandwiches with Blue Cheese Coleslaw
2014-10-20 13:28:39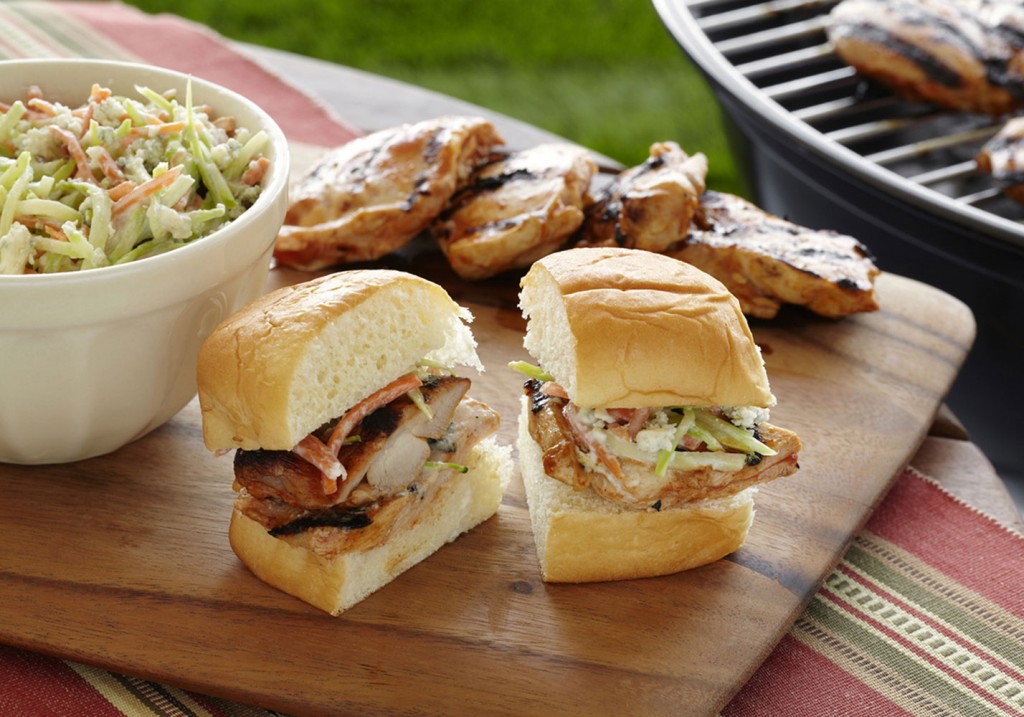 Serves 8
Ingredients
1 bottle KC Masterpiece® Buffalo Marinade
2 packages Kings Hawaiian® Mini Sub Rolls (4 per pack)
8 Tyson®,boneless,skinless chicken thighs
-------
1 cup Hidden Valley® Original Ranch® Dressing
1 cup pre-shredded coleslaw with carrots
½ cup crumbled blue cheese
Instructions
Trim all fat from the thighs. Then, lightly pound the thighs with a meat mallet until they are an even thickness, approximately 1/4 of an inch.
Place the thighs into a GLAD® food storage bag and pour in the KC Masterpiece® Buffalo Marinade until it coats the thighs. Marinate in the refrigerator for a minimum of 1.5 hours.
While the chicken is marinating, you can prepare the blue cheese coleslaw. Start by combining one cup of blue cheese with a bottle of Hidden Valley® Original Ranch® Dressing. Then, add the mixture to the prepared coleslaw mix until dressing coats the vegetables. Set aside and chill until needed.
Build a charcoal fire using Kingsford® charcoal for indirect grilling, by situating the coals on only one side of the grill, leaving the other side void. Add a small aluminum pan to the void side of the grill and fill it halfway with water.
When the charcoal grill reaches between 450 and 500 degrees Fahrenheit, take the chicken thighs and grill directly over the coals for 30 to 45 seconds on each side to sear. Once both sides are seared, move the thighs to the void side of the grill. Place the lid on the grill and cook the thighs indirectly for 10 minutes, or until the thighs reach an internal temperature of 170 degrees Fahrenheit. Then remove from the grill.
Assemble sandwich on the Kings Hawaiian® Mini Sub Rolls. Place the chicken thigh on the roll and top with the Blue Cheese Coleslaw. Stick each side of the sandwich with a toothpick. Cut sandwich in half and serve.
Taste of the Tailgate https://tasteofthetailgate.com/wordpress/