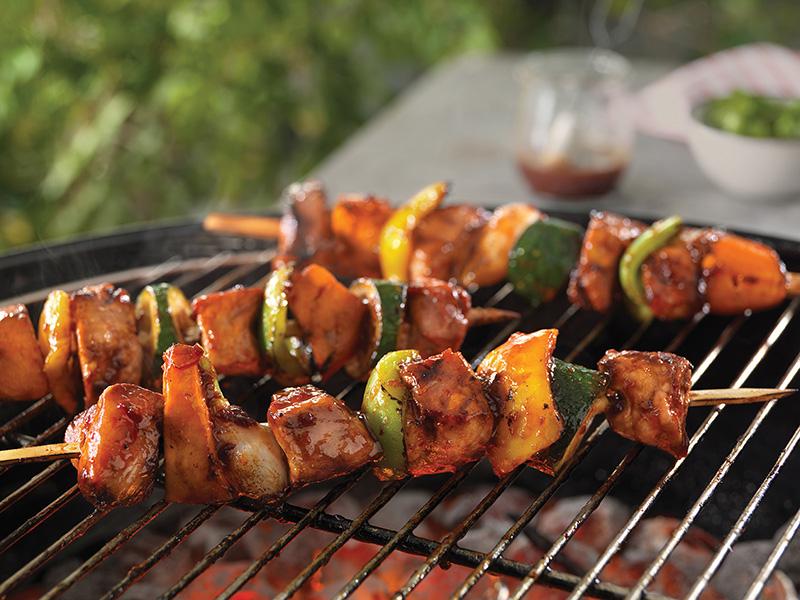 Easy, Breezy Honey-Chipotle Pork Kabobs
2017-09-15 12:05:31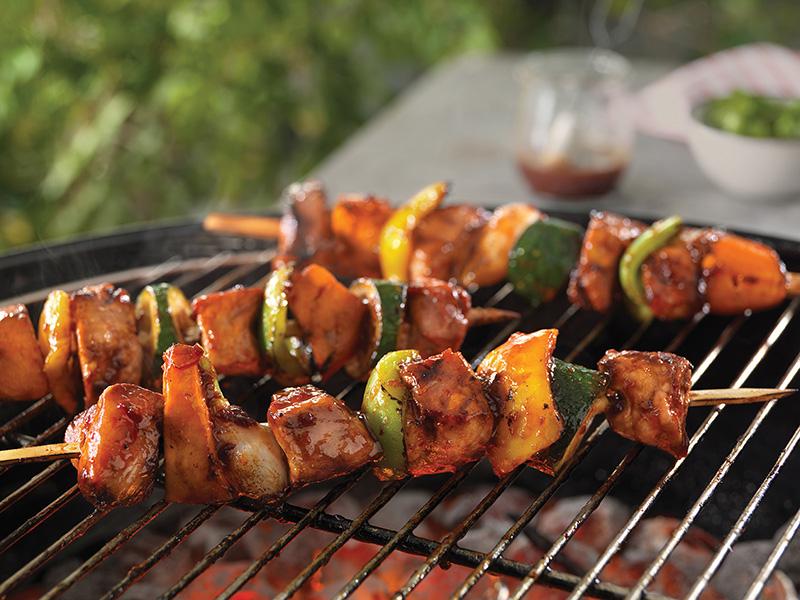 Serves 6
Ingredients
1 pound New York (top loin) pork chops, about 1 inch thick, cut into 1-inch cubes
1 orange-fleshed sweet potato, (about 12 ounces), cut into 1-inch cubes
12 ounces small red potatoes, or white potatoes, about 1 inch in diameter (or halved if 2 inches in diameter)
Salt , to taste
1/2 cup barbecue sauce, purchased or homemade
1/2 cup honey
3 canned chipotle chiles in adobo sauce, minced, or more to taste
12 scallions, white and light green parts only, cut into 1-inch pieces
1/2 cup goat cheese, crumbled
1 tablespoon fresh cilantro, chopped
Instructions
Place sweet potatoes and red or white potatoes in a medium saucepan, cover with cold water by 1 inch, and season water with salt. Bring to a boil over high heat, then reduce to a simmer and cook until potatoes are cooked but still firm, 3 to 5 minutes. Drain and set aside to cool slightly.
Meanwhile, in a small bowl, combine barbecue sauce, honey and chipotles. Divide mixture in half and set both batches aside.
Thread pork, sweet potatoes, potatoes and scallions onto 8 12-inch skewers (pre-soaked in water if wood or bamboo). Prepare a grill to medium-hot heat and thoroughly oil the grate. Cook 2 1/2 to 3 minutes on each side, brushing with one batch of the sauce each time you turn, cooking until all 4 sides are browned, pork is cooked through, and the sauce is used up, about 10 minutes. Transfer skewers to a platter and set aside to rest 3 minutes.
Sprinkle skewers with cheese and cilantro. Serve hot with the remaining batch of sauce on the side.
Nutritional information
Calories: 530 calories
Protein: 29 grams
Fat: 10 grams
Sodium: 560 milligrams
Cholesterol: 80 milligrams
Saturated Fat: 3 grams
Carbohydrates: 83 grams
Fiber: 6 grams
Taste of the Tailgate https://tasteofthetailgate.com/wordpress/