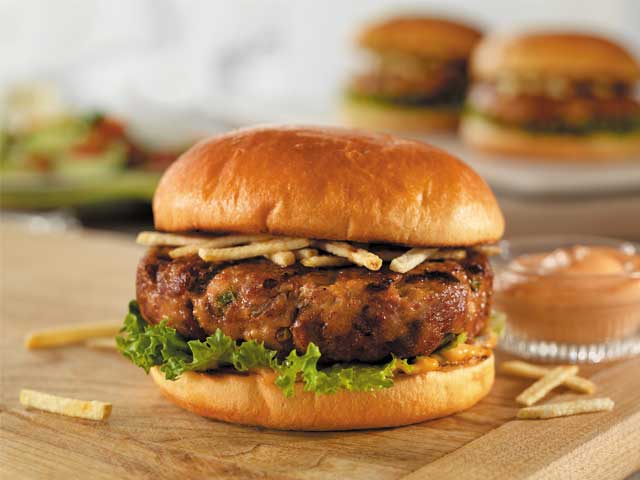 Cuban-style Pork Burgers
2016-10-10 10:54:46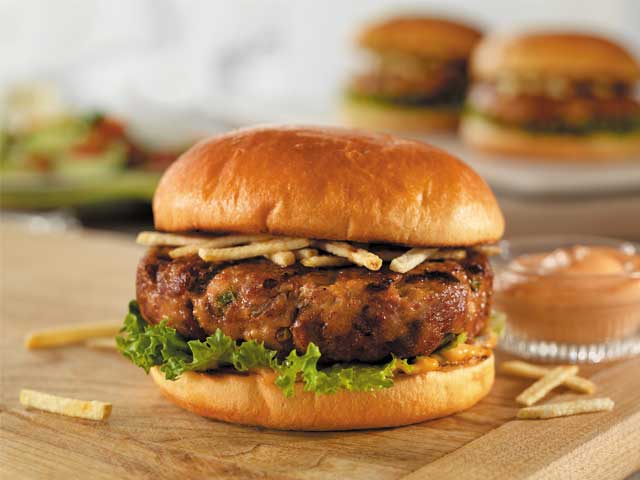 Serves 6
Ingredients
8 ounces smoked spanish chorizo, links with casings removed
1 pound ground pork
1/3 cup bread crumbs, dried
1 large egg, beaten
1 small yellow onion, minced
1/3 cup green bell pepper, minced
1 clove garlic, minced
1/4 teaspoon kosher salt
6 hamburger buns, split
6 tablespoons thousand island dressing
2 cups shoestring potatoes, (potato sticks)
6 green lettuce leaves
Instructions
Finely chop chorizo in a food processor or with a large knife. Gently mix together ground pork, chopped chorizo, breadcrumbs, egg, onion, green pepper, garlic and salt.Shape into 6 patties about 3/4-inch thick.Refrigerate for 10 to 15 minutes.
Prepare a grill for direct cooking over medium-high heat, about 450 degrees F.
Grill burgers, with the lid closed, for 5 minutes.Turn and finish cooking for 4 to 5 minutes more, until cooked through or until the internal temperature reads 160 degrees F on a digital meat thermometer.Remove from grill.
Toast buns on the grill, about 1 minute per side.Build burgers on buns with 1 1/2 tablespoons dressing, 1/3 cup shoestring potatoes and one lettuce leaf.Serve immediately.
Notes
Try these burgers with a cool Caribbean-salad of marinated tomatoes and cucumbers with avocado chunks in lime vinaigrette.
Nutritional Information
Calories: 510 calories
Protein: 32 grams
Fat: 27 grams
Sodium: 1070 milligrams
Cholesterol: 115 milligrams
Saturated Fat: 8 grams
Carbohydrates: 34 grams
Fiber: 2 grams
Taste of the Tailgate https://tasteofthetailgate.com/wordpress/