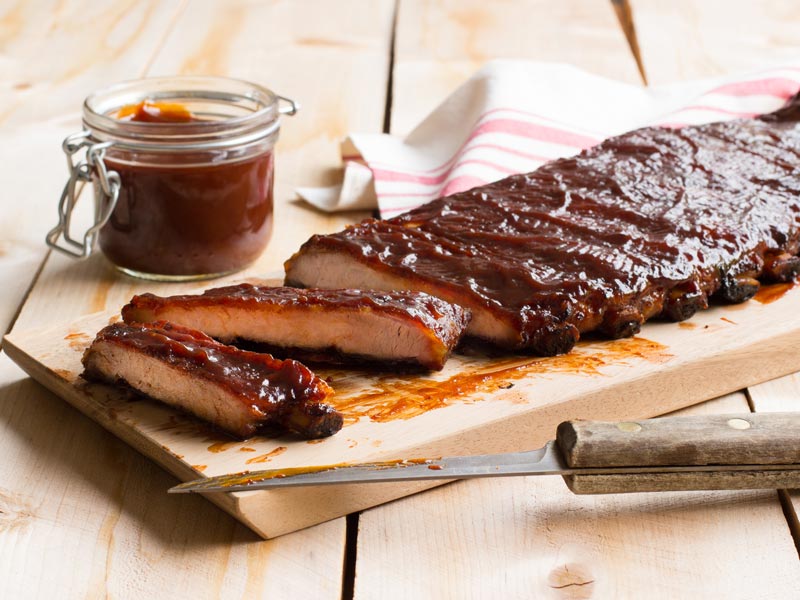 Cherry Cola Pork Ribs
2015-08-28 17:02:11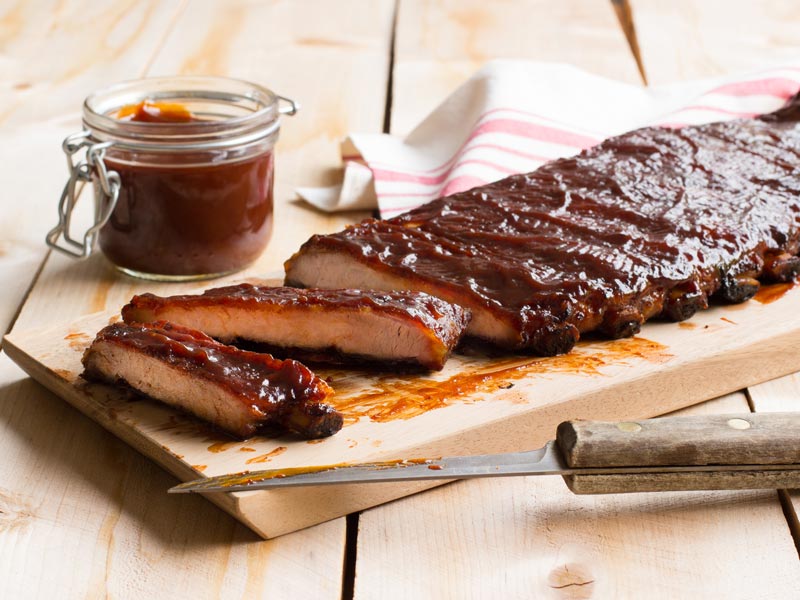 Serves 8
Ingredients
2 slabs St. Louis spare ribs,
2 1/2 pounds each
4 teaspoons chili powder
2 teaspoons garlic salt
1 1/2 teaspoons ground chipotle chile, divided 1/4 cup plus
1/3 cup cherry cola, (not diet)
3/4 cup hickory-flavored barbecue sauce
Instructions
Prepare a grill to medium heat (350 degrees F.).
Starting at the bony underside of the rack, slip a small thin knife under the membrane on the bones. Loosen about 1 inch of the membrane. Grab the loosened membrane with a paper towel and pull along the length of the rack to remove the membrane. (You may have to do this a couple of times until most of the membrane is removed.) If needed for space on the grill, cut each slab in half between two ribs.
In a small bowl, mix chili powder, garlic salt and 1 teaspoon of chipotle. While grill is heating, rub mixture all over ribs and let stand for 15 to 30 minutes.
Pour 1/4 cup of cola into a bowl. Place ribs bone-side-down on grill* over indirect heat. Cover and cook for 1 1/2 to 1 3/4 hours, brushing ribs with cola on both sides about every 20 minutes, until rib bones shrink to expose bones by about a 1/2 inch at ends.
Meanwhile, in a small saucepan, combine barbecue sauce with remaining 1/3 cup cola. On the stove, simmer over medium- low heat, 10 to 15 minutes, stirring occasionally, until reduced to 3/4 cup. Stir in remaining 1/2 teaspoon chipotle.
Brush ribs with sauce and continue to cook 20 to 30 minutes, basting and turning often, until ribs are nicely glazed and tender. Let stand for 5 minutes on cutting board. Cut between bones and serve.
*If using a charcoal grill, place over drip pan with 1/2 cup water.
Notes
If you'd like, you can substitute cayenne pepper for ground chipotle. These all-American ribs could be served with other national favorites, such as creamy potato salad, buttered corn on the cob and coleslaw.
Taste of the Tailgate https://tasteofthetailgate.com/wordpress/