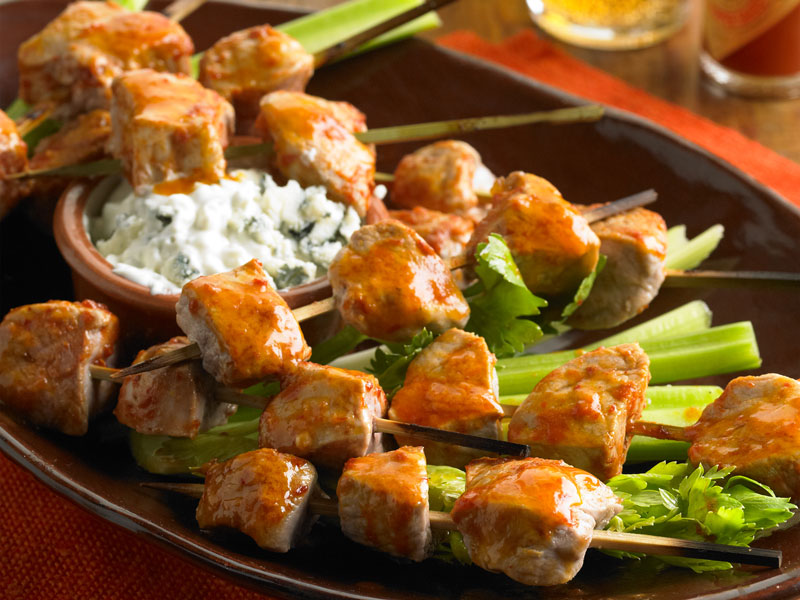 Buffalo Pork Skewers with Blue Cheese Sauce
2015-08-28 16:53:50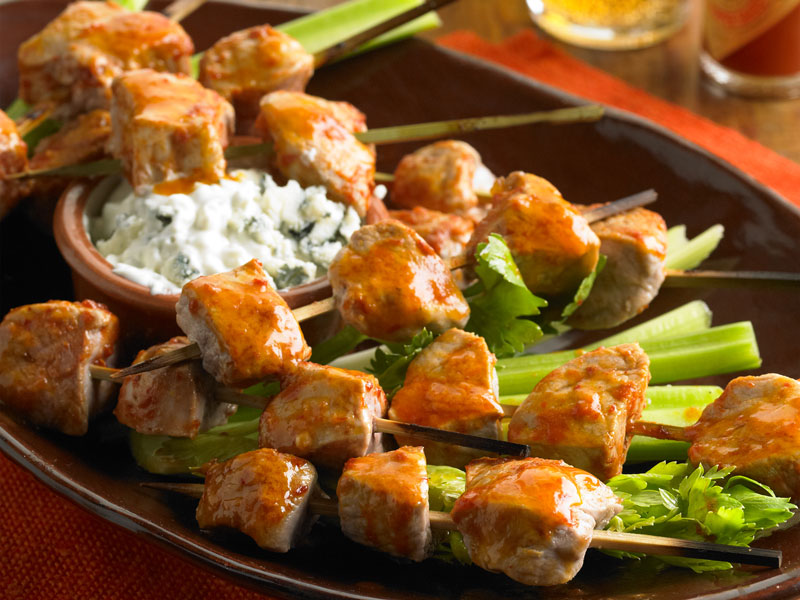 Serves 6
Try it with Sparky's Wing and Dippin' sauce!
Ingredients
1 1/2 pounds pork tenderloin, cut into 1-inch cubes
Oil Spray
2 tablespoons unsalted butter, melted
1/4 cup hot pepper sauce, such as Tabasco, divided
6 ribs celery, cut crosswise in halves or thirds, then lengthwise into sticks
Instructions
Preheat broiler and arrange a rack 4 inches from the heat. Spray a large rimmed baking sheet with cooking oil.
Meanwhile, in a medium bowl, combine the blue cheese, mayonnaise, sour cream, and milk.
Season with salt and set aside. In another small bowl, combine the butter and 2 tablespoons of the hot sauce. Set both mixtures aside.
In a large bowl, combine the pork and remaining 2 tablespoons of hot sauce. Season generously with salt. Thread the pork onto skewers and arrange on prepared baking sheet. Broil for 4 minutes. Turn and broil until tender, 4 to 5 minutes. Remove pork from broiler and let rest at least 3 minutes. While pork is resting, brush both sides with the butter mixture.
Serve the skewers and celery sticks with the blue cheese sauce on the side.
Notes
While this crowd-pleasing appetizer is great for the holidays, it's also perfect for football weekends, tailgating, and other entertaining year-round. If you'd like, you can use boneless pork loin chops instead of the tenderloin. And, while it wouldn't be traditional, you can swap the celery for carrot sticks, or serve a combination of the two.
Taste of the Tailgate https://tasteofthetailgate.com/wordpress/