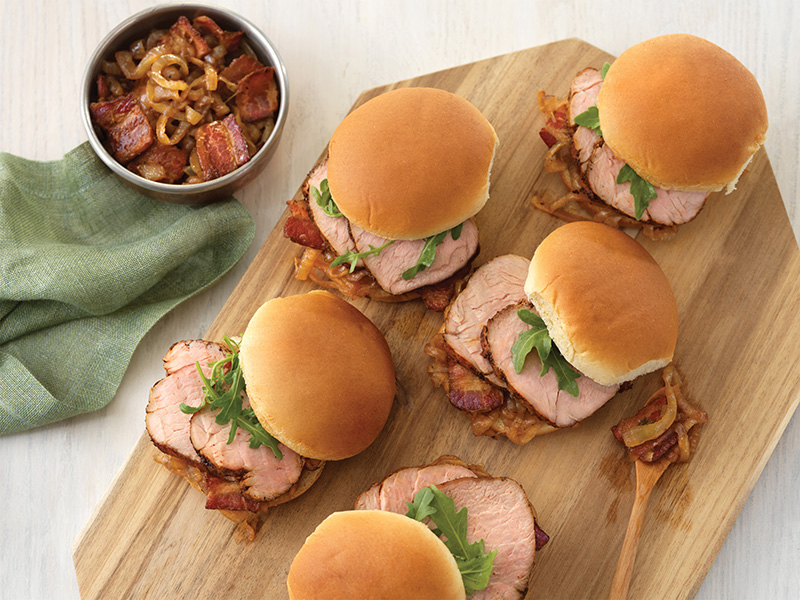 Pork Sliders with Bacon-Onion Jam
2017-09-15 11:44:08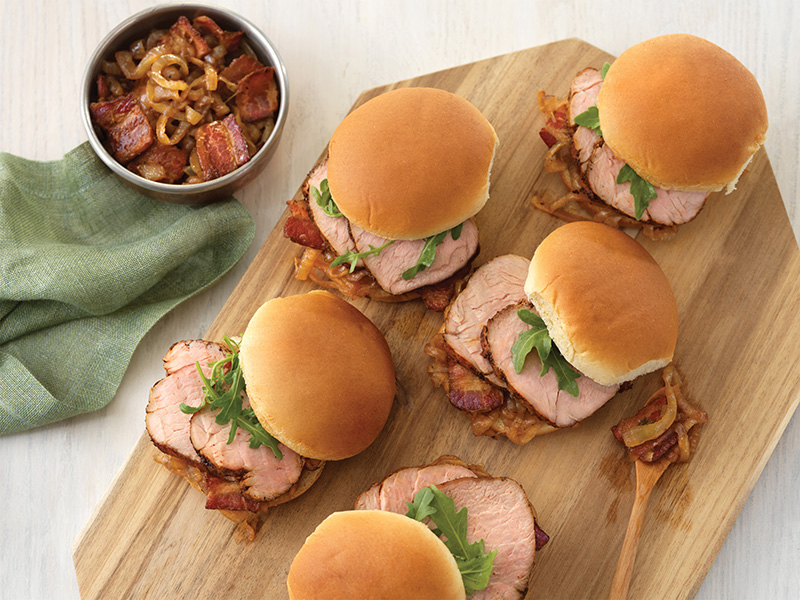 Serves 8
Ingredients
2 1 1/4 pound pork tenderloins, silverskin trimmed
2 teaspoons lime zest, finely grated
1 1/2 teaspoons salt, preferably kosher
2 teaspoons chili powder
1 tablespoon vegetable oil
2 dozen slider or dinner rolls, split
2 cups baby watercress, or arugula
Bacon-Onion Jam
8 slices thick-cut bacon, cut crosswise into 1-inch length pieces
2 pounds large yellow onions, thinly sliced
1/2 teaspoons salt
1/2 teaspoon black pepper, freshly ground
1/2 cup brewed coffee, (not dark roast) or bourbon
1/4 cup cider vinegar
3 tablespoons light brown sugar
2 teaspoons fresh thyme, minced or 1 teaspoon dried thyme
To make bacon-onion "jam"
In large skillet, cook bacon over moderately high heat, stirring occasionally, until crisp and brown, 8 to 10 minutes. Using slotted spoon, transfer bacon to paper towels to drain. Reserve 3 tablespoons bacon fat, discard the rest.
In batches, covering after each addition, add onions to skillet and cook over moderate heat, stirring occasionally, until they all wilt and fit into the skillet. Season with salt and pepper.Reduce heat to low and cook, uncovered, stirring occasionally, until onions are very tender and golden brown, about 30 minutes.
Stir in reserved bacon with the coffee, vinegar, brown sugar and thyme and bring to a boil over moderately high heat. Boil, stirring often, until liquid is syrupy and reduced to a few tablespoons, 7 to 10 minutes. Transfer to a bowl and let cool. Makes about 2 cups. (Jam can be covered and refrigerated for up to 1 week. Bring to room temperature before using.)
To make pork tenderloin
Fold back thin end of each tenderloin and tie down with a loop of kitchen twine or plain dental floss. In small bowl, rub lime zest and salt together with fingertips to infuse salt. Stir in chili powder. Rub chili mixture all over tenderloins.
Preheat oven to 400 degrees F. In large ovenproof skillet, heat oil over moderately high heat.Add tenderloins and cook, turning occasionally, until browned, about 5 minutes. Transfer skillet with tenderloins to oven and cook until internal temperature reaches between 145 degrees F. (medium-rare) to 160 degrees F. (medium), 12 to 15 minutes. Transfer tenderloins to carving board and let stand 3 minutes. (For cold sliders, tenderloins can be cooled, covered and refrigerated for up to 1 day.) Discard strings from tenderloins. Thinly cut tenderloins crosswise into 24 slices each for a total of 48 slices.
Spread bottoms of slider rolls with equal amounts of bacon-onion jam (about 1 heaping tablespoon). Add 2 slices of pork tenderloin, a few watercress leaves and top with bun. Serve hot, warm or at room temperature.
Nutritional information
Calories: 390 calories
Protein: 29 grams
Fat: 12 grams
Sodium: 770 milligrams
Cholesterol: 75 milligrams
Saturated Fat: 3.5 grams
Carbohydrates: 40 grams
Fiber: 3 grams
Taste of the Tailgate https://tasteofthetailgate.com/wordpress/