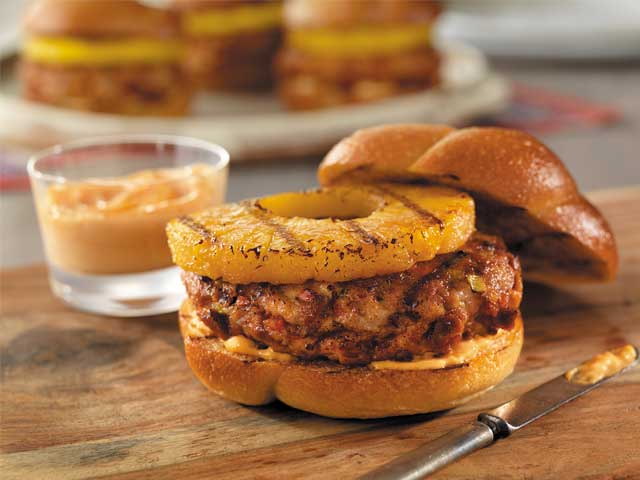 PORK AND CHORIZO BURGERS WITH PINEAPPLE AND SRIRACHA
2016-09-14 12:31:59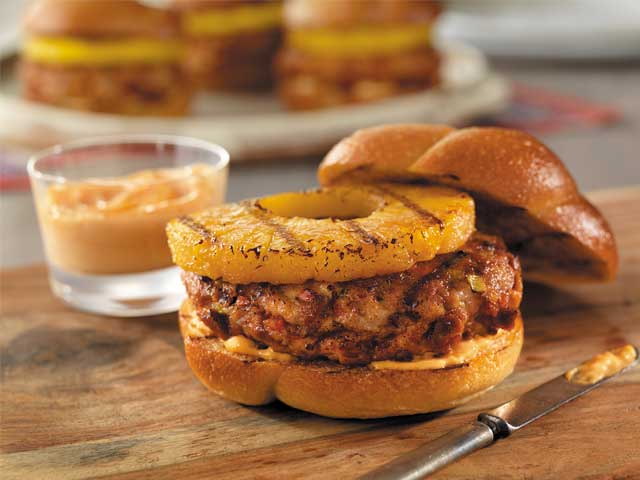 Serves 6
Burger Ingredients
8 ounces smoked Spanish chorizo, links with the casings removed
1lb pound ground pork
1/3 cup bread crumbs, dried
1 large egg, beaten
2 scallions, finely chopped
2 tablespoons red bell pepper, finely chopped
1 clove garlic, minced
1/2 teaspoon kosher salt
6 fresh pineapple rings, cut about 1/2-inch thick
6 hamburger buns, preferably sweet Hawaiian style, split
Fresh cilantro leaves, as garnish
Sriracha Aioli Ingredients
1/2 cup mayonnaise
1 clove garlic, pressed through a garlic press
1 teaspoon Sriracha chili sauce
Sriracha Aioli
Mix mayonnaise, garlic and Sriracha sauce together in small bowl.
Set aside.
Extra aioli can be stored in the refrigerator for up to 3 days.
Burgers
Finely chop chorizo in a food processor or with a large knife.
Gently mix together ground pork, chopped chorizo, breadcrumbs, egg, scallions, red pepper, garlic and salt.
Shape into 6 patties about 3/4-inch thick.
Refrigerate for 10 to 15 minutes.
Prepare grill for direct cooking over medium-high heat, about 450 degrees F.
Lightly oil grill grate.
Grill burgers, with the lid closed, for 5 minutes.
Turn burgers, and add pineapple to grill.Finish cooking burger until the internal temperature reads 160 degrees F. on a digital meat thermometer (about 4 to 5 minutes more), turning once or twice, until hot and seared on both sides.
Grill pineapple rings until browned on each side.
Remove from grill.
Toast buns on grill, about 1 minute.
Build burgers on buns with 1 1/2 tablespoons aïoli, 1 pineapple ring, and cilantro leaves to taste. Serve immediately.
Serving Suggestions
Add Asian-style slaw with shredded Napa cabbage and carrots, sliced scallions and teriyaki salad dressing for a unique flavor.
Nutritional Information
Based on 96% lean ground pork
Calories 520 calories
Protein 32 grams
Fat 23 grams
Sodium 970 milligrams
Cholesterol 110 milligrams
Saturated Fat 7 grams
Carbohydrates 48 grams
Fiber 1 grams
Taste of the Tailgate https://tasteofthetailgate.com/wordpress/