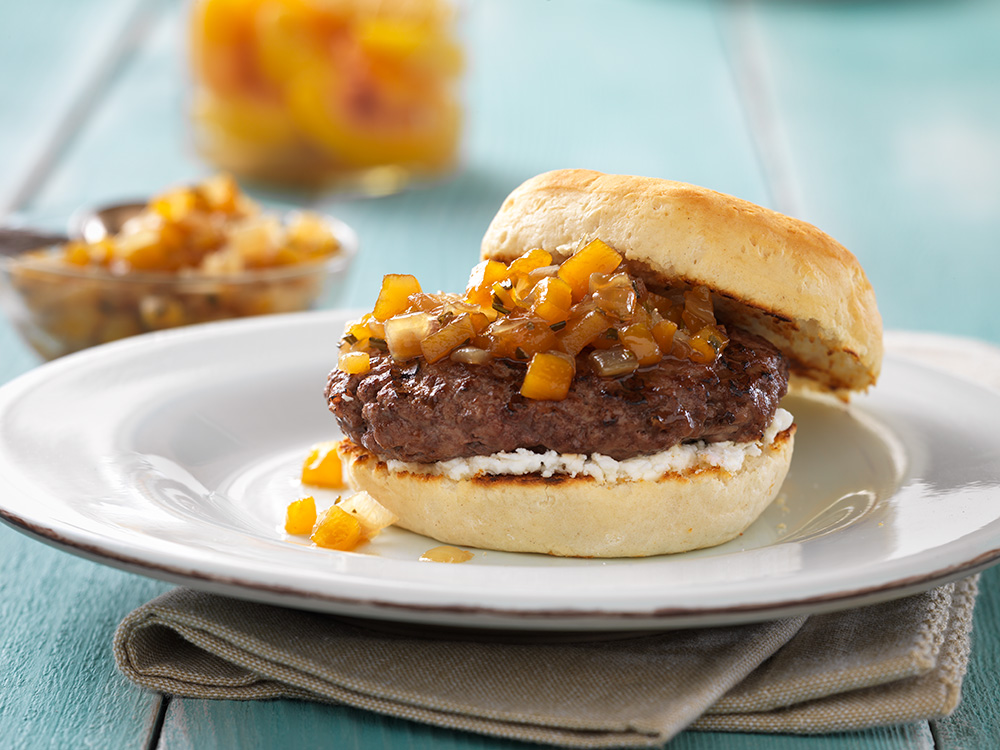 Old South Burgers with Peach Compote
2017-08-31 15:47:04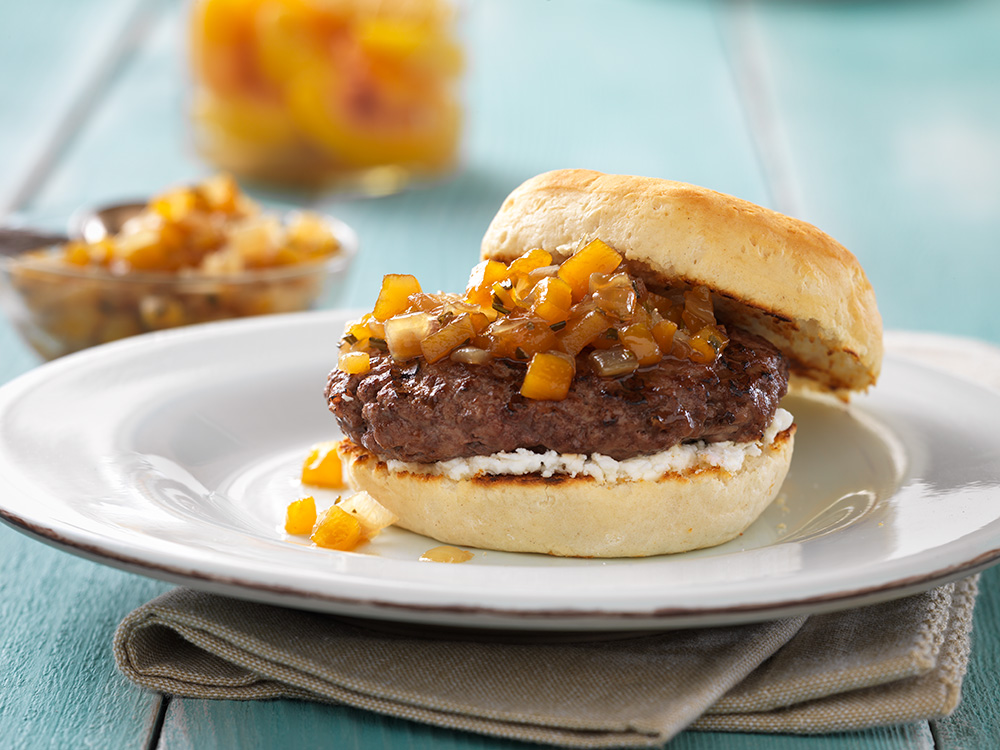 Serves 4
Ingredients
1 pound Ground Beef (93% lean or leaner)
1 cup diced peaches, fresh or frozen
1 cup diced sweet onion
1 cup Budweiser beer
1/4 cup packed brown sugar
2 teaspoons chopped fresh rosemary
1/4 cup goat cheese
4 pre-baked biscuits, split
Instructions
To prepare peach compote, heat large skillet over medium heat until hot. Add peaches and onion; cook and stir until lightly browned about 5 minutes. Add beer, brown sugar and rosemary; bring to a boil. Cook until peaches and onion are soft and liquid is almost gone, 13 to 15 minutes; keep warm.
Lightly shape ground beef into four 1/2-inch patties. Place patties on grid over medium, ash-covered coals. Grill, covered, 8 to 10 minutes (over medium heat on preheated gas grill, covered, 7 to 9 minutes) until instant-read thermometer inserted horizontally into center registers 160°F, turning occasionally.
Evenly spread goat cheese on bottom half of each biscuit; top with burgers. Evenly spoon peach compote over burgers. Close sandwiches.
Notes
Cooking times are for fresh or thoroughly thawed ground beef. Color is not a reliable indicator of ground beef doneness.
Nutrition Information (per serving)
475 calories
20 g fat (8 g saturated fat; 4 g monounsaturated fat)
81 mg cholesterol
704 mg sodium
42 g carbohydrate
2.0 g fiber
30 g protein
5.4mg niacin
0.4 mg vitamin B6
2.2 mcg vitamin B12
4.3 mg iron
19.0 mcg selenium
5.7 mg zinc
79.3 mg choline
Taste of the Tailgate https://tasteofthetailgate.com/wordpress/